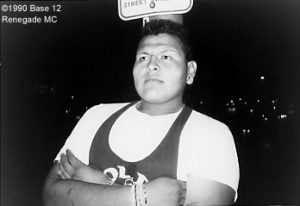 Renegade MC was Chris "Candy" Dominguez from Pico Rivera. Chris was Sam's neighbor and for many years wanted Sam to put him on vinyl. In 1988, Chris got that chance when J-vibe wrote a track called Wabbit. While in the studio J-vibe heard about a spanking-new dance called the Roger Rabbit.  One of the VSF dancers named Joe Negrete tried to demonstrate it. Joe did not even know exactly how it was danced, but it was close enough.  The dance was named after the Roger Rabbit movie which had been released that same year. J-vibe decided to write a rap song about it. He started coming-up with a beat while Joe danced. Then, he wrote the lyrics and came up with the title "Wabbit" (taking lead from the Bugs Bunny cartoons).
J-vibe showed the track to Sam who suggested his neighbor Chris.  One evening, Chris was brought into the studio and presented with the project. Chris was a large Mexican-Samoan. He had a commanding look and height that got the attention of everyone when he entered a room. Chris started practicing the track while J-vibe continued to finalize the music. It took about a month until everything was ready to start recording.  
Wabbit was designed to be party track for the club. At the time Candy was more into street rapping and doing a club track was not at the top of his list.  We explained to him that he didn't have to use his street-name if he didn't want to.  We all decided to come-up with a list of names and picked Renegade MC.  
 In the studio was Santiago, Sam, Chris and J-vibe. They started recording Chris to the Tascam 38 8-track reel. The recording took time and many takes.  Once Chris' rap was recorded and mixed down to a Tascam 32 2 track reel, it was sent to JDC Records. The vinyl was released on Dunk Yer Funk as DYF-014 with the white label.  The record was an immediate local hit. The swap-meets, record shops and Music Plus were selling-out.  In order to boost the exposure, J-vibe and Santiago went to an audio store called Ametron (when it was in Koreatown) and purchased about 100 Ampex C-15 cassette tapes.  Mainly Santiago spent days duplicating tapes on several cassette decks. He took to the streets and car-shows handing-out tapes to the mini-trucks with huge woofers.  Even his mother Francisca joined in distributing tapes at car shows.
Sam worked at phones at JDC helping push the Wabbit across the USA.  Wabbit started selling quickly and topped the sales charts in many indie record stores. With the popularity of the song growing, Sam was able to obtain some live-show presentations for Renegade MC.  Because of this, Santiago took Chris to the Beverly Center to buy him a Fedora. Sam started getting shirts made through his sister (we all assisted in the silk-screening process to lighten the work). The shows included local clubs such as Mr. J's in El Monte, Club Fantasia in Downtown (on the 2nd floor of the Bonaventure Hotel), also the one in Northridge and Puente Hills Mall, Pico Rivera Sports Arena, East Los Angeles College ELAC and many others. 
One of the first performances for Renegade MC was the night club Fantasia at the Bonaventure Hotel in downtown Los Angeles owned by Mr. Voskanian (not sure if spelled right). He also performed at Mr J's in El Monte, East Los Angeles College, the Pico Rivera Sports Arena and many other venues. One was the 1990 DJ Music Conference that took place in Montebello's Quiet Canon. That day he performed along with Debbie Deb (not the real one) and others. Unknown DJ, Stacy Q, Riana Paige and others. Renegade MC performed and it went very well with the crowd.
The Wabbit was being played on radio stations such Power 106, Kiss FM, Kday and many stations in the USA. It was during this time that J-vibe purchased an Emulator Emax. He wanted to remix the track and make it cleaner. He locked himself in the studio and came up with the "Blue Label" version. (for more info on this, check the discography section).
As Renegade MC's popularity grew, many radio stations were asking to hear his follow-up record. Sam was getting calls from many states wanting Renegade MC to perform a tour. J-vibe was already working on a complete album for Renegade MC which included a song new track named "Call Me." It was a swingy new jack beat with some real funky screaching saxophones. A major label was watching him and loved the new ideas we were doing. A trail run of the track was performed live at the Pico Rivera Sports Arena in 1989. "Call Me" started pumping on the concert speakers and the reaction was amazing. Droves of people started coming into the arena and you could hear all the crowd asking what song is that? Unfortunately, the track was never released.  (more story to come….)